Hi im back ;)
Okay i know im having an "on off" relationship with my blog, im sorry but i just enjoying my time with my family, as always family comes first :)
And other reason that ive been missing is because i start to write another blog,
It doesnt have any relation with make up or any beauty produtcs, its just my life :)
What im doing, my hobbies, my (new) (and another) addiction with japanese snack, and others.
And i choose to write it in bahasa, its more easier for me lol.
Please visit my new blog, nofeastlastforever.blogspot.com
Now im gonna show you some cute stuff from nails inc,
I bought it from sephora, i choose 2 kind of their polish, holo and the crystal color edition.
Here's the swatches for nails inc. Crystal color in porchester square.
*look at those bling-bling, it realy looks fabulous irl*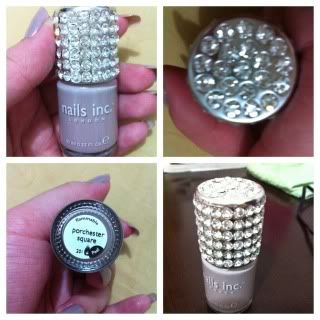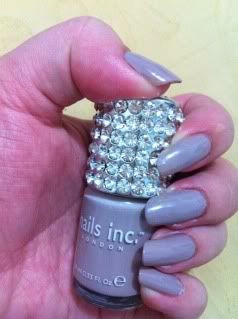 Well i have to pay almost $20 for the packaging *the bling-bling cap* but its okay, i love it <3, its easy to apply, i apply about 3coats.
And ive already wear it for almost a week and it havent chip until now.
One thing for sure, this baby is a "must" for polish collector.
Here's the detail about nails inc (london):
With product names like Kensington, Warwick Way, and Devonshire Row and a catwalk-inspired color range that includes glossy creams, liquid metals, full coverage glitters, and beautiful pearls, nails inc. is the UK's most unique nail collection. Always at the forefront of the beauty and fashion industry, the high-performance line is formulated with the most advanced technologies for incredibly long-lasting and ultra-glossy results. Whether seen on the runways of London Fashion Week, the pages of top beauty magazines, or the tips of the high-profile celebrities, nails inc. polishes prove to be must-haves for standout manicures.
Crystal Colour
What it is:
Stunning crystal encrusted nail polishes for the girl who has everything.
What it does:
Nails inc. has a unique range of crystal nail polishes. These are four of the trend shades for the season with caps that are encrusted with more than 100 individual crystals. Each crystal shade is also packaged in a beautiful gift box making them extra special for that unique gift or collector's item.
What it is formulated WITHOUT:
- Parabens
- Sulfates
- Synthetic Fragrances
- Phthalates
- GMOs
- Triclosan
Size: 0.33 oz